Lols so my birthday party was this. Asides from my amazing friends making so much damn cake and such these were the material goods I got... which considering my past birthdays, this is a very, very, VERY rare occurrence.
The first thing I opened was the vintage yukata my friend got me. Which is freaking amazing to touch and study, and it fits me great... I just need to get an Obi and I'll be done, bwahahaha... It's apparently 80 years old and such. AND I'M PUTTING DOLLS ON IT.
I also got a Monster high Frankie from the new series, school's out or something. Lols I SQUEALED LIKE A CHILD AND AM NEVER ASHAMED TO ADMIT IT. I admit I took her out of the box and played with her and such, so her hair/diary is askew.
Holt was a present which was also from the new line, just repackaged. I don't care since I finally have a blue man to mess with, BWAHAHAHAHA.
And I also got a first wave Frankie who heard how desperate I was for one...
I also got a $40 TRU voucher and a Baby Sitters Club Post card booklet from an amazing friend.
And there's Pac Man Pellets and Rarity waiting there...
*spazzes out* THERE IS TOO MUCH TO ABSORB. IT'S LIKE MY BIRTHDAY OR SOMETHING.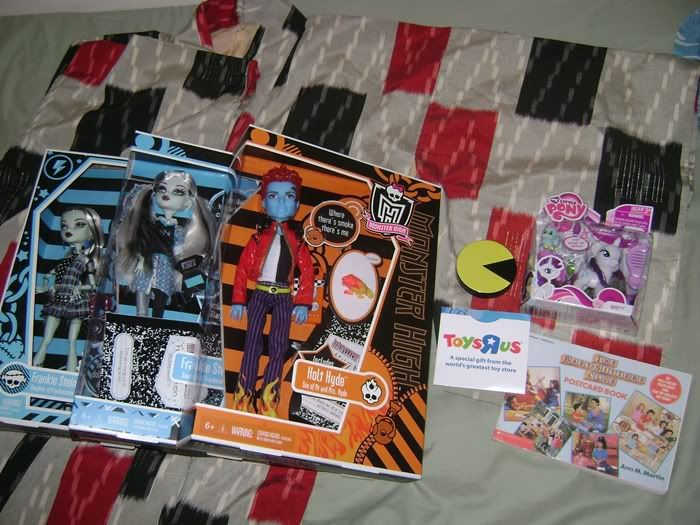 ( Read more... )